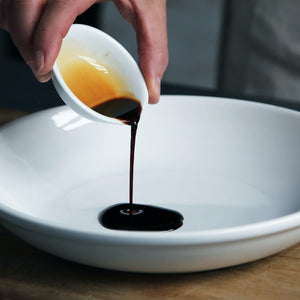 Traditional 18 Year Aged Balsamic from Italy
Regular price
Sale price
$23.99
---
Experience the rich and exquisite taste of Italy with Oliver's Traditional 18-Year Aged Balsamic. This authentic, high-quality balsamic vinegar is a result of a meticulous aging process that has been mastered by skilled Italian artisans over generations. A true culinary delight, our 18-Year Aged Balsamic brings out the best in your dishes and elevates your gastronomic experiences.

Sourced from the renowned region of Modena, Italy, this exceptional balsamic vinegar is made from the finest Trebbiano and Lambrusco grapes. It undergoes a traditional production process, ensuring that it retains the distinct flavors and characteristics that have made Italian balsamic vinegar famous worldwide.

Key Features:

Authentic Italian Balsamic Vinegar: Produced and aged in Modena, Italy, Oliver's Evoo Traditional 18-Year Aged Balsamic showcases the flavors and quality that can only come from this renowned region.
Traditional Aging Process: This balsamic vinegar is aged for 18 years in wooden barrels, allowing it to develop its unique, deep, and complex flavor profile.
Exquisite Taste: Our balsamic vinegar features a perfect balance of sweet and tangy flavors, with hints of cherry, fig, and caramel that complement a wide variety of dishes.
Versatile Culinary Companion: Ideal for drizzling over salads, grilled vegetables, cheeses, meats, or even desserts, this balsamic vinegar adds depth and richness to your culinary creations.
Elegant Packaging: Presented in a beautifully designed bottle, Oliver's Evoo Traditional 18-Year Aged Balsamic makes a thoughtful and sophisticated gift for the foodies and gourmands in your life.
Discover the exceptional taste of Oliver's Traditional 18-Year Aged Balsamic from Italy and bring a touch of luxury to your table. Elevate your meals and impress your guests with this exquisite condiment that embodies the culinary essence of Italy.
Origin: ITALY
Bottle size: 375ml